Who should I call the actual author of "Billy Elliot"? After all, there are a few worthy of the title.
Let's begin from the beginning.
1999:
"Billy Elliot" was first written by Lee Hall, a british playwright, in 1999. The screenplay was made into a film directed by Stephen Daldry, which resulted in an Acadamy Award nomination.
2001:
In 2001, Melvin Burgess was given the task of writing the novalisation of the film based on Lee Hall's screenplay.
2005:
Later, the film became a stage musical, with music by Sir Elton John and lyrics by Hall. This musical opened in the West End in 2005 as "Billy Elliot the Musical", on Broadway in 2008, and it has earned Hall the 2009 Tony Award for
Best Book of a Musical
.
The question about who the author really is depends of course on what
"kind"
of "Billy Elliot" you're talking about. Is it the film? The book? Or the musical?
In my case it's the book, so I guess the author would have to be Melvin Burgess. The one actually writing it down on paper ready to read. (Even so, I don't want to take the pride from Lee Hall - after all, he was the one who came up with the idea and the storyline...).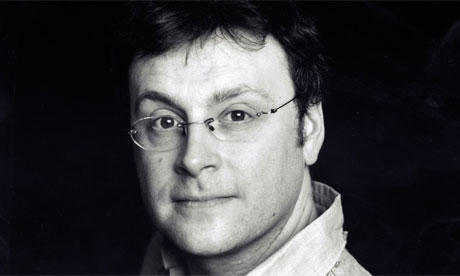 Melvin Burgess Lee Hall
Melvin Burgess (25 April 1954) is a British author of Children's Fiction.
The Cry of the Wolf
, his first book, was published in 1990.
Junk
was published in 1996, and gained recognition because it dealt with heroin-addicted teenagers.
Junk
soon became, at least in Britain, one of the best-known young adult books of the decade. Amongst other books with Burgess' name on it, there are
Doing It, Bloodtide,
and
The Ghost behind the Wall
.
I would rather read another one of Melvin Burgess' books than drinking paint (ugh...), but I'm not sure his way of writing is what I'd enjoy. I'm a huge fan of crime novels, and getting me interested in another genre won't be easy...
Sources:
http://en.wikipedia.org/wiki/Melvin_Burgess
http://en.wikipedia.org/wiki/Lee_Hall_(playwright
http://en.wikipedia.org/wiki/Billy_Elliot_the_Musical
http://en.wikipedia.org/wiki/Billy_Elliot
http://www.londontheatredirect.com/img/news/BILLYELLIOTTHEMUSICALEXTENDSBOOKINGUNTILAPRIL2011.jpg
http://upload.wikimedia.org/wikipedia/en/3/31/Billy_Elliot_movie.jpg
http://img1.fantasticfiction.co.uk/images/n11/n59404.jpg
http://thebookshow.skyarts.co.uk/siteimage/scale/800/600/15614.png
http://static.guim.co.uk/sys-images/Guardian/Pix/pictures/2011/7/7/1310044131531/Writer-Lee-Hall-007.jpg